Senior Digital Marketing Specialist
We're a referral-based boutique software house, highly focused on quality and client relations, serving clients across the US (including Silicon Valley, Austin, and NYC) and maintaining long-term partnerships in the UK and Germany. Our approach treats clients as integral team members, and we prioritize meaningful work for our employees, aligning projects with their aspirations and nurturing a cohesive company culture. Our success metric is our team's happiness. We value work-life balance, supporting employee well-being through initiatives like Start IT and Swiateczna Paczka. For a deeper dive into our story, check out the 'About Us' page.
While referrals have been our primary success driver, we're now exploring organic and PPC lead generation, seeking a skilled marketer to enhance our online presence. 
What excites us about the role (and we hope you get hyped, too!):
Being our only full-time marketing role, you'll have a lot of ownership and very wide areas of responsibility

You'll work with a very senior tech team focused on quality. We're rating top NPS and advertising our services should be a pleasure

We're small and focused on bringing value and work fun - no corporate BS, that's a promise.
Here's what you'll be responsible for at FPWD:
identifying customer profiles and creating tailored communication strategies

developing and optimizing lead generation funnels

managing content marketing, SEO, PPC campaigns, and website conversion rate optimization

maintaining the website and optimizing landing page conversions 

updating profiles on review platforms like Clutch and TechBechemots

collaborating with specialists in UX/UI, software development, copywriting, and analytics

analyzing data from various marketing channels for actionable insights 

working closely with the management team to execute the marketing strategy.
What you need to succeed:
at least 5 years of experience in Digital Marketing in the B2B service industry (experience in a software house will be a significant advantage)

skills in "performance marketing" - acquiring valuable web traffic and converting it into leads 

the ability to understand the decision-making process of users and tailor marketing content accordingly 

proficiency in marketing and analytical tools (Google Analytics, Piwik, Hotjar, HubSpot, etc.) and advertising platforms (Google Ads, Facebook Ads, LinkedIn Ads).
What you can expect:
introduction to technologies and project management, so that you represent the company with confidence and know-how

equipment of your choice

benefits to support your work-life balance

: paid leave on B2B, Multisport, private health care, company offsites and sports events, flexible working hours

a friendly, collaborative environment that supports your growth (training program, referral scheme, team building budget, team lunches, and Christmas gifts)

competitive salary

on CoE (9-12k PLN gross) or B2B (11-15k PLN net)

bonus / Commission scheme after 3 months to be discussed individually

remote / hybrid work with an option to work from the office if you prefer in Bielsko-Biała or Krakow (at least one day / 6 hours per week in the Bielsko office is required)

start-up environment experience through ShareTheBoard, our in-house product

minimal hierarchy or paperwork with maximum impact and ownership

working in a small 70-person IT Team without a corporate feel or glass ceilings
Your recruitment process:
Marketing interview with

Mateusz

(ca 60')

Recruitment Task - done at your pace

Meeting with our PM/AM team (ca 30')

Meeting with the board (

Pawel

) - final interview (ca 45')
Once you've completed the process, you can opt for a demo day to ensure a proper culture fit and whether we're a match for you - we'd invite you to one of our offices and compensate your time for it, of course!
We'd love to have you. No CV? No problem, apply anyway - and contact Aneta or Ela in case of questions.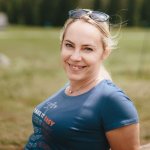 Aneta Filipek
HR Project Manager
aneta@frompolandwithdev.com