Senior JS Developer (Fortune 500 app)
We are From Poland with Dev - a group of no-nonsense professionals who value hard skills and effective collaboration. We're proud of the companies we support and work hard to foster long-term relationships with them. We're looking for a talented engineer to help us support our new friend, 
Abilitie
.
Abilitie
 develops award-winning corporate leadership development and mini-MBA programs for rising leaders and executives around the world:
We support over 40 Fortune 500 clients and deliver programs in over 30 countries
We're proud to have been included in Inc. Magazine's "Best Workplaces in America" for two years in a row
We're headquartered in the heart of the Austin start-up scene, looking for an engineer to join our experienced team
What this position entails
Highly ambitious programming assignments, requiring solid engineering and a drive for proactive problem solving
Assumed trust and responsibility: you'll have full freedom and autonomy, along with an expectation of getting the job done right
Working closely with company leadership and directly influencing the direction and shape of our products
High-visibility work, with a direct impact on our business
Work in a cutting-edge and constantly-evolving technology stack (with very few legacy components)
Who we're looking for: 
Senior full-stack JavaScript engineer (minimum of 6 years of relevant, progressive experience)
Frontend: React.js, Redux, Apollo GraphQL, HTML/CSS, Material UI
Backend: Node.js, PostreSQL, GraphQL, API Design, AWS (EC2, Route 53, S3, & RDS)
Nice to have: Java Spring, jQuery, PostgreSQL RDBMS, Circle CI/CD, Testing (unit, integration, E2E), UX/UI design
Above-average business acumen
Excellent communication skills (in written and spoken English)
What we offer:
Development of technical and business skills; all of our team members have access to our world-class professional development services
Challenging and ambitious work in a prestigious and well-funded Austin startup
Travel to Austin, at least once a year (after Covid restrictions)
Highly-competitive pay
Benefits: paid vacation and sick leave, private health care, sport card, hardware and support for remote employees, and many more
Option to work remotely or in our offices in Kraków and Bielsko-Biała
Recruitment interviews:
30min initial meeting with HR
30min with business
30-60min with CTO.
Ready to join our ambitious team? Apply and let's talk. Or let 
Ela
 know in case of any questions.
---
Wersja w języku polskim
---
O nas
Jeśli ktoś odchodzi z tego zespołu, to najczęściej do firm w stylu... SpaceX. To zapewne świadczy o tym, jak utalentowani są członkowie naszego teamu technicznego.
Teraz rekrutujemy ponownie!
Współpracując blisko z 
Abilitie.com
, współtworzymy produkt, który:
tworzy produkt oferujący szkolenia (m.in. mini-MBA), z których korzysta 40 firm z listy Fortune 500
otrzymał "Best Workplaces in America" drugi rok z rzędu nadany przez Inc. Magazine, doceniona została m.in. wysoka kultura organizacyjna w zespole
wywodząc się ze startupowego Austin (Texas, USA), oferuje pracę w moncym, doświadczonym zespole (technologicznie, biznesowo, organizacyjnie).
Ta praca to:
ambitne zadania programistyczne, zarówno regularny development jak i proaktywne szukanie rozwiązań
wydajny i zwinny rozwój produktu
swoboda w proponowanych rozwiązaniach i implementacji
możliwość współtworzenia produktu w bliskiej współpracy z biznesem
bycie potrzebnym - rozwój aplikacji o szerokim i bardzo konkretnym, produkcyjnym zapotrzebowaniu
praca w nowoczesnym i ciągle odświeżanym stacku (choć mamy też starsze części aplikacji napisane w Java Spring i jQuery)
Poszukiwane kompetencje:
doświadczenie full-stack w JavaScript na poziomie senior
frontend: React.js, Redux, Apollo GraphQL, HTML/CSS, Material UI
backend: Node.js, PostgreSQL, GraphQL, API Design, AWS (EC2, Route 53, S3, & RDS)
mile widziane: Java Spring, jQuery, PostreSQL RDBMS, Circle CI/CD, Testing (unit, integration, E2E), UX/UI design
swobodny język angielski
Oferujemy:
nastawienie na ciągły rozwój, zarówno technologiczny jak i - w razie zainteresowania - biznesowy
stabilną i ciekawą pracę w prestiżowym, dojrzałym startupie z Austin
możliwość podróży służbowych do Austin (po Covid)
benefity: płatne ulropy i chorobowe, prywatna opieka medyczna, szkolenia, wsparcie zdalnego stanowiska w zakresie hardware, inne
praca zdalnie lub z biura (jesteśmy w Krakowie i Bielsku-Białej, a w razie potrzeby oferujemy pomoc w organizacji przestrzeni biurowej w innych miastach).
Proces rekrutacji:
30min wstępna rozmowa z HR
30min z biznesem
30-60min z CTO.
Gotów dołączyć do naszego teamu? Wyślij swoją aplikację i porozmawiajmy! Daj znać w razie pytań bądź wątpliwości.
O From Poland With Dev:
Jesteśmy międzynarodowym zespołem ceniącym rozwijające projekty, relacje międzyludzkie i work-life balance. Pracujemy wyłącznie z klientami z polecenia - dzięki temu nie jesteśmy podwykonawcą i działamy jako "team extension", będąc pełnoprawnymi członkami projektów. Cenimy pracę blisko biznesu, swobodę i możliwość wpływania na produkt. Minimalizujemy formalności, bo interesuje nas wydajna, merytoryczna praca i rozwój. Brak dystansu, otwartość, zaufanie i ludzkie podejście to filary naszej codziennej pracy.
Zapraszamy!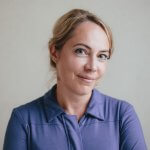 Aneta Filipek
HR Project Manager
tel.: +48 604 925 639
Don't wait, join us today!