Technical Support | half-time | SaaS, US
Wspólnie ze zespołem z Texasu rozwijamy BuzzStream.com - globalny, innowacyjny CRM dla marketerów, inteligentnie optymalizujący precyzyjną komunikację z klientami. 
Szukamy osoby, która half-time wesprze nasz techniczny team Customer Support. Zespół jest międzynarodowy, doświadczony, a do tego ceni sobie świetną atmosferę i wysoki poziom zaufania.
Ta praca to:
mały

team

, płaska struktura i bliska współpraca (4 osoby w CS i 4 developerów)

minimum formalności

i krótki proces decyzyjny

możliwość poznania

innowacyjnego produktu CRM

na poziomie eksperckim

kultura organizacyjna

zwinnego zespołu z Austin

, USA.
Zadania:
codzienny kontakt z klientami BuzzStream oraz członkami zespołu (poprzez różne kanały komunikacji)

Identyfikacja i opisywanie problemów użytkowników z zachowaniem uzgodnionego czasu reakcji 

priorytetyzacja zgłoszeń i błędów według ważności

przekazywanie jasno opisanych ticketów programistom

bieżące informowanie klientów o postępach i wprowadzonych usprawnieniach z wyrozumiałością i troską o ich "customer experience"
Wymagania:
swobodna znajomość angielskiego w mowie i piśmie

doświadczenie w supporcie technicznym (najlepiej z SaaS) oraz w zarządzaniu kolejką ticketów

podstawowa znajomość systemów typu CRM oraz narzędzi do komunikacji z klientami

sprawne zarządzanie czasem i ustalanie priorytetów

proaktywność, zaangażowanie i chęć poznania produktu

mile widziane: techniczne aspekty e-mail oraz HTML
Oferujemy:
nowy sprzęt do wyboru

stabliną i długofalową pracę

half-time

w preferowanych godzinach

14:00-18:00

wynagrodzenie przy half-time:

4-7k netto+VAT/h B2B

lub

3-6k brutto UoP

MultiSport, "becikowe", prywatne ubezpieczenie zdrowotne, eventy sportowe i zespołowe, program poleceń, paczki świąteczne

elastyczność, zaufanie i wysoką kulturę organizacyjną

praca zdalnie lub z biura (w Krakowie lub Bielsku-Białej, możliwość coworkingu w innych miastach)

możliwość podróży służbowych do USA.
Nasz proces rekrutacji:
30min wstępnej rozmowy z HR

zadanie rekrutacyjne 

60min finalnego spotkania.
O From Poland With Dev
Jesteśmy międzynarodowym zespołem ceniącym rozwijające projekty, relacje międzyludzkie i work-life balance. Pracujemy wyłącznie z klientami z polecenia - dzięki temu nie jesteśmy podwykonawcą i działamy jako bliski partner lub "team extension", będąc regularnymi członkami zespołów. Cenimy pracę blisko biznesu, swobodę i możliwość wpływania na produkt. Minimalizujemy formalności, bo interesuje nas wydajna, merytoryczna praca i rozwój. Brak dystansu, otwartość, zaufanie i ludzkie podejście to filary naszej codziennej pracy.
Zapraszamy - aplikuj również bez CV. Napisz do Eli w razie pytań bądź wątpliwości.
— English version —
Together with the Texas team, we develop BuzzStream.com - a global, innovative CRM for marketers, intelligently optimizing precise communication with customers.
We are looking for a half-time specialist who will strengthen our technical Customer Support team. The team is international, experienced, and values a great atmosphere and a high level of trust.
What this position entails:
small

team

, flat structure, and close cooperation (4 people in CS and 4 developers)

minimum formalities

and short decision-making process

the opportunity to learn about an

innovative CRM

at the expert level

organizational culture of an

agile team

from Austin, US.
Daily tasks:
constant contact with BuzzStream customers and team members (through various communication channels)

identifying and describing user problems while maintaining the agreed response time

prioritizing submissions and errors according to their importance

distributing clearly described tickets to developers

informing customers about progress and implemented improvements on an ongoing basis with understanding and care of their "customer experience"
What we are looking for:
fluent knowledge of spoken and written English

experience in technical support (preferably with SaaS) and in ticket queue management

basic knowledge of CRM systems and tools for communicating with clients

efficient time management and setting priorities

proactivity, commitment, and willingness to get to know the product

nice-to-have: technical aspects of e-mail and HTML
What we offer:
new work equipment to choose

stable and long-term half-time work, preferably between 2-6 p.m.

half-time salary: 4-7k net + VAT / h or 3-6k gross UoP

private health care, MultiSportCard, referral program, team and sports events, "baby benefits", Christmas gifts

flexibility, trust, and high organizational culture

working remotely or from the office (in Krakow or Bielsko-Biała, possibility of coworking in other cities)

the possibility of business trips to the USA.
Our recruitment process:
30 min HR screening

recruitment task

60 min final meeting.
Feel free to apply, even without a resume. Reach out to Ela in case of any questions.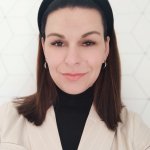 Ela Adamus-Wolny
HR&Recruitment Manager
tel.: +48 600 593 770
Don't wait, join us today!